Murda Bizness Lyrics by NBA Youngboy – Murda Bizness is the Brand New English Song from the album "Lost Files" featuring YoungBoy Never Broke Again. YoungBoy Never Broke Again has sung this Latest English Song, while Murda Bizness Song Lyrics are penned by YoungBoy Never Broke Again, PlayboyXO, and DeMoe, with Music produced by PlayboyXO and DeMoe, and this Brand New Music video has been released on the 23rd of December 2022.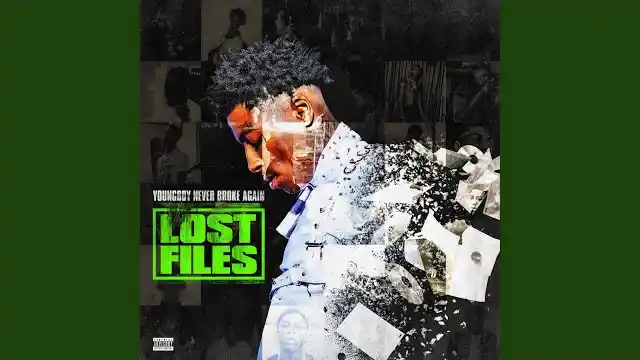 Murda Bizness Lyrics – NBA YoungBoy
(Playboy On This B!tch But He Ain't Playin', Though)
My N!gga Say He Got 'em
Pack Up Your Shit And Leave The House
It's Finna Be Some Problems
Deja At The Crib And Once We Leave,
I Don't Want That Shit Around Her
Found Out I'm A Dada,
I Don't Wanna Be Questioned
That's Another Problem
Dude Up In L.A
Laid With His Family, He Think I Can't Touch Em
My Son On The Way,
Don't Want Him To Grow Up Where He Can't Thug
And Just Know His Daddy Spanked Somethin'
And He Better Do The Same (Do The Same)
This Money Clear Your Head
You Got Northside In Your VеIns
We All Built Not To Change
N!gga, I Just Cocked Onе In And I'm Rollin'
Out The Top Of The Drop-top,
I'm Thuggin' Like B!tch, Who Want It?
Have One In The Glock, Ridin' In A Cutlass
We From That 'raq And We Love It
Come To My Bro, Bet' Not Touch Him
We Quick To Flush Him
What It Is?
Herm Got A Hunnid In His Choppa
He Can Act Like We Can't Stop Him
It Won't Be Long Until We Pop Him
Go To Dumpin' On The Runway
Bust His Head Like A Piñata
On The One Way, Bumpin' Deandre,
I Got Lean Up In My Bottle
And My Momma Know I'm Wildin'
Grandpa Know I'm Thuggin'
They Could Come To This B!tch Block And
I'ma Leave The Hood Ugly
I Got Xanax In My Body
Know Ken' Feel Like Fu*k It (Fu*k It)
Fu*k The Stage, Let's Go To Sage, Darlin'
Neighbors Know We Stomped Him
I'ma Come Through, Do My Dance In The Murder Business
It's Gon' Be Another Killin'
Everyday, They Out Here Spinnin'
They've Been Slidin' From Out The Bentley
Lift His Hand, Ain't Else To Do But Kill Him (Kill Hm)
We Tryna Knock Off Ya Fitted
Twenty-four, We're Out Here Wit' It
Straight Hollows Inside The Glizzy
It's Mu-der
N!gga, Pick You One
Bro Gon' Zip Him Somethin'
And Another One
Don't Give A Fu*k Who Wit' Em, Yeah
Or The Fu*k Who Come
They Ain't Tippin' Nothin', B!tch
We Gon' Step On Somethin'
Come Through Youngboy Woppin' With This Choppa
Bust His Head With This Bottle
What You On? We Be Them Slimes
And Droppin' Dimes, It Ain't A Problem
Talk Too Long, My N!ggas Catch Him
Take The Minutes Off His Time
I Wasn't Gamblin' But The Money Got Sent
Straight From Out Nevada (Blatt, Blatt)
Who Said Blood, N!gga?
Jumped Out Like Some Thugs
Then I'm Rollin' Off These Drugs
N!gga, I Won't Show No Love
Light The Strong, What The Fu*k, N!gga?
This Joe Ain't Got No Buzz
We Gon' Leave That N!gga Stuck
He Ran Up Inside This Club
I'ma Come Through,
Do My Dance In The Murder Business
It's Gon' Be Another Killin'
Everyday, They Out Here Spinnin'
They've Been Slidin' From Out The Bentley
Lift His Hand, Ain't Else To Do But Kill Him (Kill Hm)
We Tryna Knock Off Ya Fitted
Twenty-four, We're Out Here Wit' It
Straight Hollows Inside The Glizzy (Glizzy)
Rich N!gga, Hit You With The Switch
Oh, Hit You With The Switch
Oh, Hit You With The Switch
Oh (Hit You With The, Ah)
Big Thug, Hit You With The Switch
Oh, Hit You With The Switch
Oh, Hit You With The Switch
Oh (Hit You With The, Ah)
Rich N!gga, Hit You With The Switch
Oh, Hit You With The Switch
Oh, Hit You With The Switch
Oh (Hit You With The, Ah)
Big Thug, Hit You With The Switch
Oh, Hit You With The Switch
Oh, Hit You With The Switch
Oh (Hit You With The—)
Written by: YoungBoy Never Broke Again, PlayboyXO & DeMoe
Murda Bizness Song Info:
| | |
| --- | --- |
| Song: | Murda Bizness |
| Album | Lost Files |
| Singer: | NBA YoungBoy |
| Lyrics: | YoungBoy Never Broke Again, PlayboyXO & DeMoe |
| Music: | PlayboyXO & DeMoe |
| Music Label: | YoungBoy Never Broke Again & Atlantic Records |
| Featuring: | NBA YoungBoy |
| Release Date: | 23rd December 2022 |
Related Songs
HTAFL
I Thought
Broken Hearted
On a Boat
Hey Now
Doctor
Perc 10
Nurse
Ms. Alinda
I Love It
Michael Corleone
4KT Freestyle
Steady
Time Out
Locked & Loaded
Dangerous
Time Flow
Lose Me
Murda Bizness Music Video