4KT Freestyle Lyrics by NBA Youngboy – 4KT Freestyle is the Brand New English Song from the album "Lost Files" featuring YoungBoy Never Broke Again. YoungBoy Never Broke Again has sung this Latest English Song, while 4KT Freestyle Song Lyrics are penned by YoungBoy Never Broke Again, Lilkdubb, and India Got Them Beats, with Music produced by Lilkdubb and India Got Them Beats, and this Brand New Music video has been released on the 23rd of December 2022.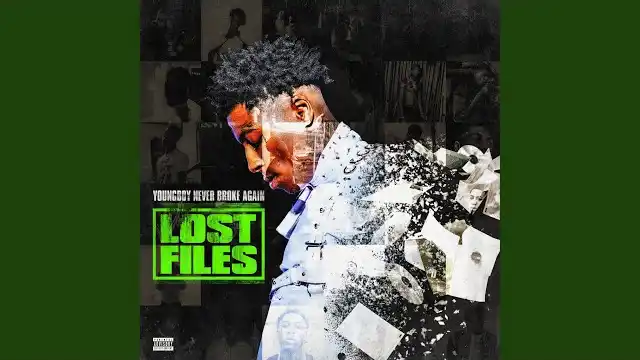 4KT Freestyle Lyrics – NBA YoungBoy
(Mommy, India Got The Beats)
(I Bet My Last Track Probably Gave You Lockjaw) Yeah
Oh (Hey Lilkdubb), Oh-no
Uh-uh-uh, Oh, Slime
Tell Me What You Feelin', I'm Gon' Try To Make A Way
Stuck Up In This System, Feeling Like I'm Already In The Grave, Yeah
Oh, Grandma, I Need Yo' Lovin' And I Need Yo' Huggin'
Sundown To Sun Up, I'm Stuck Up In It, I Be Steady Thuggin'
Just A Lonely Child, It Hurt My Heart
My Mama Feel Like F*ck Me
These N!ggas 'round Ain't Right,
They Want My Life, They Probably Wanna Bust Me
Buff Got That F&N, Try Me, Everybody Seein'
I'm In This Life Of Sin, Heaven Gates Just Let Me In
Yeah, I Stretched That Boy Up In His Yard, It Only Cost Me Ten
I'm Livin' Hard, Just 'causе Probation, I Can't Be Round Ten
Ridin' With My Top Down, And Bitch, I'm Hot Now
Run Up With Them Glocks Down, You Gon' GеT Shot Down
Thuggin' In Them Trenches, It's The Way We Be Livin'
Yeah, You Gon' Fold And Count On My Pain, You See How I'm Feelin'
Tell Yo' Mama, "Good Riddance," You Play, It's On Now
I Took Five Xans Back To Back, I'm In My Zone Now
These Hoes Ain't Loyal, I'm Done, They Can't Call My Phone Now
Told You Once Before, I'm Feelin' Like That I'm Not Wrong Now
I Got The Heart Of A Slime
I Would've Been And Bust His Dome, Them N!ggas Hidin'
I Asked My Dawg, "Why They Ain't Dead?" He Said, "I'm Slidin'"
Them N!ggas Stuck Up In The House, We'll Go Inside (Yeah)
I Can't Seem To Shake These Dr-gs, I Been On It
Tell Me How You Want It, Yeah
K!ll 'em Proper, Creep Up On Him
Ridin' Through Them Slums By My Lonely, Pistol Right Up On Me
Since My Second Body, I Been Hungry
I Say, I Want Blood, F*ck Brpd, I Be Running
They Know We Whackin' 'em Back To Back, N!gga, So They Been On Me
They Reppin' Off One Body, We Stepped On Three Of They Homies
All In Jail, I Get Them Bitches Touched
Confinement, I Been Wanted
Oh, She Want My Heart?
I Make That Bitch Give Me Her Soul
Tat' My Name Across Yo' Face So Yo' Next N!gga Gon' Know
Sh!t, You A Ho
I Put Yo' Mama Right On That Front Row
Had Yo' Whole Family Screamin', They Can't-Wait Until I Go
I'm So Slimy, Connivin', I'm Grimy, Oh, Yeah
You Bet' Not Shoot Him From A Distance, Bitch, Run Down And Bust His Head
Bitch, Ask My Mama, She Told Me, "Zip A N!gga," And I Did
Oh, You Don't Like Me For That N!gga? F*ck You Too, This What It Is
Murder Man Dance, Youngboy Whoppin' With That Choppa
Bring 'em To A Stand, We Go To Shooting, It Ain't No Stoppin'
Them N!ggas Tried To K!ll Me Once But Hit The Bitch, That's On Side Me
One Week Later, Caught Him Slippin',
We Dump Fifty And Popped 'em (F*ck Him)
We Go Blood For Blood, Body After Body, Huh
The City Sick Of All Of Us And They Can't Stop It, Uh
At My Funeral, My N!ggas Bring Them Choppas Out
I Want A Lambo' For My Casket, N!gga, Check Me Out
Yeah, I Got Three Ms Right Now
When I Hit Ten, I'll Be As Deadly As I'm Is Now
The F*ck You On, N!gga? You Know What I'm On
Whatever You On
I'm Slime Wit' It, I'm Dyin' Wit' It, N!gga
What Up, Now?
We Go Blood For Blood, Body After Body, Huh
The City Sick Of All Of Us And They Can't Stop It, Uh
At My Funeral, My N!ggas Bring Them Choppas Out
I Want A Lambo' For My Casket, N!gga, Check Me Out
Written by: YoungBoy Never Broke Again, Lilkdubb & India Got Them Beats
4KT Freestyle Song Info:
| | |
| --- | --- |
| Song: | 4KT Freestyle |
| Album | Lost Files |
| Singer: | NBA YoungBoy |
| Lyrics: | YoungBoy Never Broke Again, Lilkdubb & India Got Them Beats |
| Music: | Lilkdubb & India Got Them Beats |
| Music Label: | YoungBoy Never Broke Again & Atlantic Records |
| Featuring: | NBA YoungBoy |
| Release Date: | 23rd December 2022 |
Related Songs
HTAFL
I Thought
Broken Hearted
On a Boat
Hey Now
Doctor
Perc 10
Nurse
Ms. Alinda
I Love It
Michael Corleone
Steady
Time Out
Locked & Loaded
Dangerous
Time Flow
Murda Bizness
Lose Me
4KT Freestyle Music Video