Chosen Lyrics by Dino James is the Brand New Hindi Song. Dino James and Neeraj Gupta have sung this Latest Hindi Song, while Chosen Song Lyrics are penned down by Dino James, with Music given by Aakash and this Brand New Music Video is directed by Himanshu Nisha Tyagi.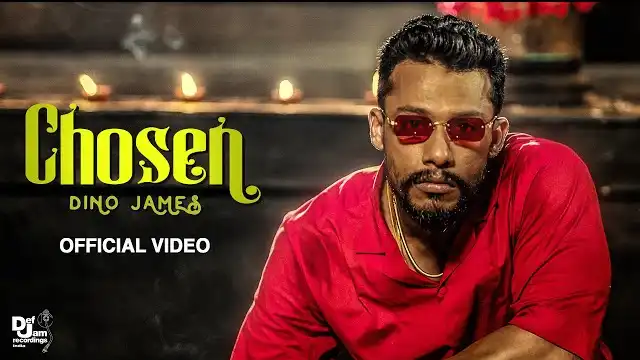 Chosen Lyrics – Dino James
Life Hain Saamne Sabke
Nahi Hain Koi Parda
Studio Mein Lock Hoon
Tabhi Har Jagah Hain Charcha
Saalon Main Tarsa
Tabhi Ho Rahi Hain Ye Varsha
Paan Mein Kabhi Meetha Bhi Hai
Aur Kabhi Hain Zarda
Life Kaabu Mein
Jab Hua Main Bekaabu
Kaise Tu Ye Kar Leta Hai
Sabko Hota Taajjub
Banjar Zameen Fati
Maa Ke Gire Aasun
Ab Baatein Only Universal
Baaju Hoja Baaju
Yaari Ka Pakka Tera
Sabse Acha Dost Hoon Main
Line Ko Theek Karu
Peeche Khada Ghost Hoon Main
Safar Mein Sangh Hu Tere
Aaja Tera Bhoj Loon Main
Dosti Mein Cheat Kare
Munh Mein Tere Gosht Doon Main
Pehle Main Pyasa Tha
Ab Leke Aaya Baadh Main
Cheekha Hoon Bahut
Tabhi Laga Hoon Dahaadne
Sahi Khoda Tumne Haati
Nikala Hain Pahaad Mein
Pyaar Se Kya Baat Karu
Aa Jaate Hain Laad Mein
Khushiyan Saari Kaagazi
Par Baatein Chide Cast Ki
Itna Gussa Kyun Chote
Ranjishe Kyun Aapsi
Maan Main Omkar, Cross
Chand Bhi Aur Swastik
Jana Hain Khuda Ko Maine
Tabhi Bana Nastik
Independent Dilse
Aur Saath Mein Mere Label Hai
Khali Meri Thali Thi
Ab Bhara Pada Table Hai
Rab Ka Yeh Favor Hain
Sun Tabhi Aise Flavor Hai
Kaam Ka Hoon Pakka Raja
Tabhi Aisa Tevar Hai
Toofano Mein Pala Hoon
Pala Hu Mai Aag Mein
Gala Mein Taap Mein Hoon
Tabhi Chodu Chaap Mein
Jigre Mein Dum Hain Toh
Lage Tu Kyon Yeh Kaanp Ne
Bars Ka Baap Hoon Main
Tabhi Kahe Baap Re
Ujaale Aaye Aur
Chata Saara Darkness
Mudke Toh Dekho
Saara Jag Hain Mere Saath Mein
Aaya Hoon Karke
Main Lambe Se Faasle
Mujhko Chuna Hain
Sun Rab Ka Hu Khaas Main
I'm Chosen I'm Chosen
I'm Chosen I'm Chosen
I'm Chosen I'm Chosen
I'm Chosen I'm Chosen
Ka-Ka-Ka Khatam Kar Kar Du
Tera Lip Lock Boli Hain Rap
Aur Sun Jaat Hain Meri Hip Hop
Jahan Se Hona Chahiye
Wahi Se Hoon Main Thick Bahut
Gaane Bhi Main Gaa Leta Hoon
Aur Bars Hain Mere Sick Bruh
Sheron Ko Moodke Sun Bana Hoon
Main Shayar Aaj Khoon Siyahi Bani
Tabhi Chala Hain Mushaira
Jagah Teri Le Raha Hoon
Main Badha Raha Hu Daayra
Aur Aage Sab Kuch Mera Hai
Sun Meri Hain Ye Kaaynaat
Jordan Ka Fan Par Hun Par
Main Jooton Pe Nahi Kharchu
Kehte Sare Dost, Rappers
Jaise Kyu Nahi Kartoot ?
Uski Main Cheezon Nahi
Aadat Ko Karu Pursue
Tera Darna Lazmi Hai
Aage Khada Hain Arjun
Meri Melody De Therapy
De Jealousy Aur Allergy
Yeh Pehle Bhi Kaha Tha
Meri Legacy Toh Failegi
Meri Territory Mai Jagah Nahi
Meri Lehre De Energy
Hain Alleppey Se Beverly
Ye Peedhi Mujhe He Sunegi
Koi Bala Se Mai Gala Nahi
Saath Kadake Ki Kala Thi
Koi Jagah Nahi Jaha
Salah Nahi Sab Madari
Main Nacha Nahi
Kabhi Manali Mai Mala Nahi
Par Gale Mai Thi Kharashi
Mere Kala Ki Nahi Dalali Hain
Nakashi Yeh Darati
Pakdi Hain Gati Ab Nahi
Koi Speed Breaks
Success Ka Bhooka Baki
Nahi Hain Koi Cheat Days
Dooba Sagar Mein Tabhi
Mila Jaake Sea Face
Kaam Se Kaam Chori Nahi
Bus Yehi Hain Mera Secret
I'm Chosen I'm Chosen
I'm Chosen I'm Chosen
I'm Chosen I'm Chosen
I'm Chosen I'm Chosen
Written by: Dino James
Chosen Song Info:
| | |
| --- | --- |
| Song: | Chosen |
| Singer: | Dino James & Neeraj Gupta |
| Lyrics: | Dino James |
| Music: | Aakash |
| Director: | Himanshu Nisha Tyagi |
| Music Label: | Dino James |
| Featuring: | Dino James |
Related Songs
Khaas – Dino James
Yaadein – Dino James
Pyaar Pyaar – Dino James
Chosen Music Video – Dino James