ANTHEM [English Translation] Song by Salmo & Noyz Narcos: "ANTHEM" is a New Song from the album "CVLT", sung by Salmo and Noyz Narcos. ​ANTHEM Song was written by ​​​​​Salmo, Noyz Narcos, Luciennn, and Sine, and the music was also produced by​ ​Luciennn.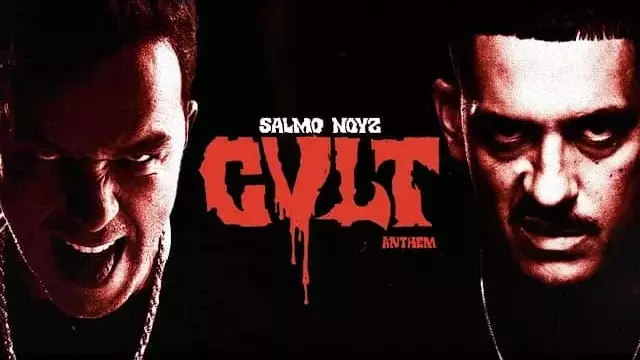 Salmo & Noyz Narcos – ANTHEM Lyrics In English
I Often Ask Myself Why I Still Do It
I Answer, "I Have To Push It To The Bottom Or Go Back To The Grocery Store."
I've Got A Head In The Ground, They Find The Body In The Ice
With A Blue Face And Purple Lips On The Ground With An Arm Tie.
One Finger's Enough, I'm Fooled By These Fu*kers
Magic Blue Like Denzel, I'm Michael Keaton
I Represent For The Dead, In My Hood Reborn
At The Funeral In My South In An Armored Suv.
One Told Me, "Trust The Others, You Have To Disguise Yourself.
Bro, These Scoundrels End Up Fooling You."
I'm Hiding In The Crowd Like Banksy
I Got Bigger Than Gatsby, Eoh
With My Boys, Influencers, Tiktokers, Subhumans
Only With Our Hands Do We Take You Out, Soleimani
Learn Before You Speak, Fai, I Die Tryin'
Life Flows Through Your Fingers Like A Butterfly
If I Rhyme, I End Time Like Cooked Crack
I Play The Pipe In The Back On This Fast Track
Fu*k Your Rap, I Hit, David Guetta
We'll Die From Legends Like Elizabeth
I Spit Only Raw Shit, I Stay Most Hated
I Swim Among Barracudas Dressed As Cosplayers
I See Cuts On Naked Flesh, Looks Like A Good Trailer
Nessun Dorma, It's A Dogma Like Lars Von Trier
First Time, I Remember, It Was Just Marijuana
Second, Then Continued, It Always Ended For -ina (Ah)
The Years Of Black And The Albanian Ammonia.
The Tags On The Bus With Three Inches On The Side (Ah)
Everybody At Home When It Rains These Random Rhymes (Ah)
I Come Out Of The Dark Raving Like Marlon Brando
I Ride A Black Lambo Like The Black Mamba
Sorry I'm Late Mom, I Was Shaking
If You Were Me, You'd Already Be Dead (Ah)
In The Emergency Ward Of An Emergency Room
Or End Up In A Hole With Six Shots In Your Body
You'd Be Brad Pitt Wrestling With Ed Norton (Uh)
Every Asshole In The World Should Listen To Me (Ah)
This Tranva Cuts Heads, Leaves Bodies Afloat
He'll Be Dumb Who Hosannas Me
Cause If I Make A Joint I Look Like
A Cosmonaut Up In The Skies, Like Hosanna.
1979, Noyz Narcos Comes To The World.
God Asks You, "Do You Want Proof?"
Oh, Stop
Eoh, Enough
ANTHEM Music Video
Song Credits:
| | |
| --- | --- |
| Song: | ANTHEM |
| Album: | CVLT |
| Band/Singer: | Salmo & Noyz Narcos |
| Lead Vocals: | Salmo & Noyz Narcos |
| Written By: | Salmo, Noyz Narcos, Luciennn & Sine |
| Music Produced By: | Luciennn |
| Music Label: | Salmo |
| Featuring Artist: | Salmo & Noyz Narcos |
| Release Date: | |
You Might Also Like –
Syrup – Shiva
Tutti – Calcutta
A M'DON – DON XHONI
Rocket – Vale Pain (feat. Artie 5ive)
Bella Ciao – From Money Heist
This is the end of "ANTHEM Song Lyrics In English" by Salmo. Lyrics displayed here are for educational purposes only. We respect the artists and don't promote copyright infringement instead.
LyricsWorldYou FAQs & Trivia
Who wrote the lyrics to the "ANTHEM" song?
Salmo, Noyz Narcos, Luciennn, and Sine have written the lyrics of "ANTHEM".
Who is the singer of the "ANTHEM" song?
Salmo and Noyz Narcos have sung the song "ANTHEM".
Who is the music producer of the ANTHEM song?
Luciennn produced ANTHEM song music.
When was the ANTHEM song released?
ANTHEM the song was released on November 3, 2023.