SOS Song by SEVENTEEN (세븐틴): "​​SOS" is a Brand New Song, sung by S.COUPS (에스쿱스), Jeonghan (정한), JOSHUA (조슈아), JUN (文俊辉), HOSHI (호시), WONWOO (원우), WOOZI (우지), THE 8 (徐明浩), MINGYU (민규), DOKYEOM (도겸), SEUNGKWAN (승관), VERNON (버논), and DINO (디노). ​​SOS song lyrics were penned by ​​​WOOZI (우지), BUMZU, and Shannon Bae, and the music was composed by WOOZI (우지), BUMZU, and Marshmello.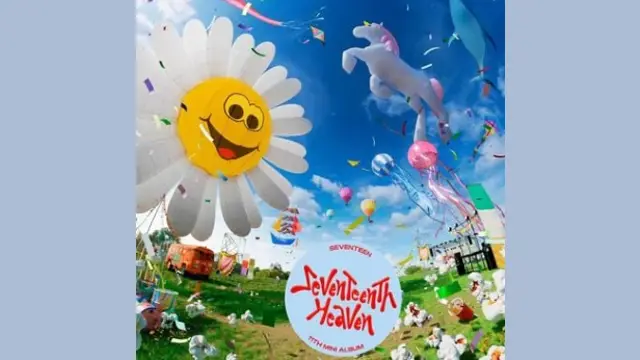 SEVENTEEN – ​​SOS Lyrics
'mello, It Ain't Right
Day To Day To Day, It's Like We're An Infinite Roulette
Spin It, Spin It, Spin It, Now, Who's The Next Target?
White Sticker Looks So Sweet
Don't Stick It On, So Dangerous
The Second You Regret, It's Already Too Late
I'll Tell You Again For Us
This Isn't What You Want
Ain't The True Happiness
Don't Know What We Have All Become
We Need To Find A Way Out
Tell Me, Where Are We Goin' Right Now?
Where Is The Love?
We Can Find The Love, Ooh-woah-oh-oh, Ooh-woah
S-O-S-O-S-O, Right Now
Everyday, We're Fightin'
A Silent War We Never Wanted
Come On, Right Now
People Keep On Dyin'
When The World Is Killin' You, Yeah
Just Shoot The S-O-S, S-O-S
Just Shoot The S-O-S, S-O-S
Please Tell Me, S-O-S, S-O-S
Don't Worry, I'll Be Waitin' Here
All The Time 'cause I'm Your Friend
Hidin' And Hidin' Each Other
Smile And Cover And Cover
Sell It And Buy It Like Water
When Did We Normalize Danger?
Walk Out The Dark Forest
I Gotta Go Back To You Every Time
If You Feel The Courage, Yeah, Go Ahead And Dial
It's So Bad, Bad, Bad
Tell Me What's Killin' You
It Ain't Cool, Cool, Cool
Can't Recognize Us Anymore
To The Ocean, We Don't Back Down
Only We Can Find A Way Out
Where Is The Love?
We Can Find The Love, Ooh-woah-oh-oh, Ooh-woah
S-O-S-O-S-O, Right Now
Everyday, We're Fightin'
A Silent War We Never Wanted
Come On, Right Now
People Keep On Dyin'
When The World Is Killin' You, Yeah
Just Shoot The S-O-S, S-O-S
Just Shoot The S-O-S, S-O-S
Please Tell Me, S-O-S, S-O-S
Don't Worry, I'll Be Waitin' Here
All The Time 'cause I'm Your Friend
We Gotta Run Away From The Dangerous Thoughts That Come Our Way
This Song Is So Easy, You And I Both Know What I Wanna Say
We're Gonna Be Okay, Our Tomorrow Is A Brighter Day
We're Gonna Be Okay, Our Tomorrow Is A Brighter Day
We Gotta Run Away From The Dangerous Thoughts That Come Our Way
Come, Lean Your Back On Me, Us Together We Can Stand Up Straight
We're Gonna Be Okay, Our Tomorrow Is A Brighter Day
I'll Be There By Your Side, Yeah
S-O-S-O-S-O, Right Now
Everyday, We're Fightin'
A Silent War We Never Wanted
Come On, Right Now
People Keep On Dyin'
When The World Is Killin' You, Yeah
Just Shoot The S-O-S, S-O-S
Just Shoot The S-O-S, S-O-S
Please Tell Me, S-O-S, S-O-S
Don't Worry, I'll Be Waitin' Here
All The Time 'cause I'm Your Friend
SOS Music Video
SOS Song Info:
| | |
| --- | --- |
| Song: | SOS |
| Album: | SEVENTEENTH HEAVEN |
| Band/Singer: | SEVENTEEN (세븐틴) |
| Lead Vocals: | S.COUPS (에스쿱스), Jeonghan (정한), JOSHUA (조슈아), JUN (文俊辉), HOSHI (호시), WONWOO (원우), WOOZI (우지), THE 8 (徐明浩), MINGYU (민규), DOKYEOM (도겸), SEUNGKWAN (승관), VERNON (버논) & DINO (디노) |
| Written By: | WOOZI (우지), BUMZU & Shannon Bae |
| Music Produced By: | Marshmello |
| Composed By: | WOOZI (우지), BUMZU & Marshmello |
| Music Label: | Pledis Entertainment |
| Featuring: | SEVENTEEN (세븐틴) |
| Release Date: | October 23, 2023 |