Dreaming Song by Marshmello: "Dreaming" is a New Song, sung by Marshmello, P!nk, and Sting. ​Dreaming Song lyrics were written by ​​​​Marshmello, Sting, Digital Farm Animals, Richard Boardman, and Kiddo A.I., and the music was produced by​ ​Marshmello and Digital Farm Animals.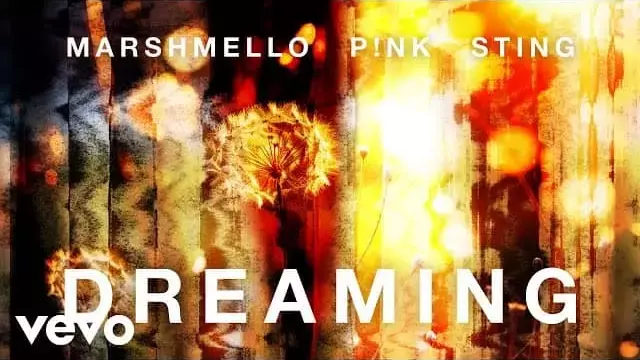 Marshmello – Dreaming Lyrics
Will You Stay With Me? Will You Be My Love
As The Days Get Longer?
Will You Follow Me? Never Let Me Go?
Let's Keep Dreaming
Dreaming As The Sun Goes Down
Stars Are Dancing
Dancing As The World Turns 'round
When It's Said And Done, I'll Keep Holding On
Even In The Silence
I Can Hear Your Voice Through All Of The Noise
Yeah, Yeah
We'll Keep Dreaming
Dreaming 'til The Sun The Goes Down, Hey
We'll Keep Dancing
Dancing As The World Turns
'round And 'round And 'round And 'round (Yeah)
Dreaming 'til The Sun GoеS Down
I Will Stay With You, I Will Be Your Love
As The Nights GеT Longer
I Will Follow You, Never Let You Go
Yeah, I Keep Dreaming
Dreaming 'til The Sun Comes Out, Hey
Stars Are Dancing
Dancing As The World Turns
'round And 'round And 'round And 'round
Hey, Oh
We'll Keep Dreaming (Keep On Dreaming)
Keep On Dreaming (Dreaming 'til The Sun Goes Down)
Keep On Dreaming
Oh
Keep On Dreaming On, Keep On Dreaming On, Oh
Stars Are Dancing
Dancing As The World Turns
'round And 'round And 'round And 'round
Hey, Oh
We'll Keep Dreaming (Keep On Dreaming)
Keep On Dreaming On, Oh
Let's Keep Dreaming (Keep On Dreaming)
Dreaming As The Sun Goes Down
Keep On Dreaming
Song Credits:
| | |
| --- | --- |
| Song: | Dreaming |
| Band/Singer: | Marshmello, P!nk & Sting |
| Lead Vocals: | Marshmello, P!nk & Sting |
| Written By: | Marshmello, Sting, Digital Farm Animals, Richard Boardman & Kiddo A.I. |
| Music Produced By: | Marshmello & Digital Farm Animals |
| Music Label: | Marshmello |
| Featuring Artist: | P!nk & Sting |
| Release Date: | |
You Might Also Like –
Call Me Revenge – 21 Savage
Low Tide – Iann Dior
For All The Barbz – Nicki Minaj
Out Of The Woods (Taylor's Version) – Taylor Swift
Too Much – The KID LAROI (Ft Jung Kook & Central Cee)
Dreaming Music Video