Heavy Heavy Lyrics by Shipra Goyal: "Heavy Heavy" is the Brand New Punjabi Song featuring Shipra Goyal. Shipra Goyal has sung this Latest Punjabi Song, while the Heavy Heavy Song Lyrics are penned by Shree Brar, with Music produced by Showkid, and this Brand New Music Video was released on April 17, 2023.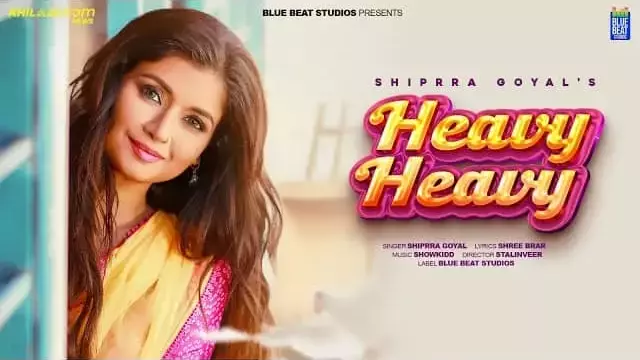 Shipra Goyal – Heavy Heavy Lyrics
Taur Toor Teri Ve
Tor Toori Meri Ve
Raula Gaula Dona Da Ha Ha
Shehar Chandigarh Ve
Ho Chhad Jayenga Chhad Jayenga
Jatta Tu Ve Ladna
Jithe Gayi Sadde Naal
Akkh Teri Lad Ve
Showkidd!
Ve Tu Shonk Naal Suneya Ae Time Chakkda
Phone Phoon Kahton Mein Chakkna Dare
Ve Tu Heavy Heavy Rakhde Dabban Bhar Ke
Light Light Nakhre Kyun Chakkno Dare
Badi Suni Si Tareef Tere Laal Akh Di
Ek Tu Ae Akkh Vich Takkno Dare
Tor Toori Meri Ve
Ve Tu Heavy Heavy
Ve Tu Heavy Heavy
Ve Tu Heavy Heavy
Ve Tu Heavy Heavy
Akkh Teri Laal Ve Haaye Bura Haal Ve
Suit Mere Laal Ve Jachun Tere Naal Ve
Zulfan De Jaal Ch Phasa Ke Rakh Lavange
Umran Layi Apna Bana Ke Rakh Lavange
Umran Layi Apna Bana Ke Rakh Lavange
Phade Gutt Jurtan Dassan Waleya
Dil Wali Sahnu Kahton Dassno Dare
Ve Tu Heavy Heavy Rakhde Dabban Bhar Ke
Light Light Nakhre Kyun Chakkno Dare
Badi Suni Si Tareef Tere Laal Akkh Di
Ek Tu Ae Akkh Vich Takkno Dare
Hundi Shree Barara Tainu Phire Bai Bai Ve
Haaye Kinna Sohna Meri Maa Da Jawai Ve
Haaye Tera Touch Jivein Bambe Wale Gunde Ve
Follow Tainu Karde Ne Nawe Jehe Munde Ve
Maanse Di Jatti Niri Laat Agg Di
Bathinde Aaleya Tu Kahton Machno Dare
Ve Tu Heavy Heavy Rakhde Dabban Bhar Ke
Light Light Nakhre Kyun Chakkno Dare
Badi Suni Si Tareef Tere Laal Akkh Di
Ek Tu Ae Akkh Vich Takkno Dare
Ve Tu Heavy Heavy Rakhde Dabban Bhar Ke
Light Light Nakhre Kyun Chakkno Dare
Badi Suni Si Tareef Tere Laal Akkh Di
Ek Tu Ae Akkh Vich Takkno Dare
Written by: Shree Brar
Heavy Heavy Song Info:
| | |
| --- | --- |
| Song: | Heavy Heavy |
| Singer: | Shipra Goyal |
| Lyrics: | Shree Brar |
| Music Composer: | Shree Brar |
| Music Production: | Showkid |
| Director: | Stalinveer |
| Music Label: | Blue Beat Studios |
| Featuring: | Shipra Goyal |
| Release Date: | April 17, 2023 |
Related Songs
Family – R Nait, Shipra Goyal
Subah Se Shaam – Shipra Goyal
10 Outta 10 – Amrit Maan, Shipra Goyal
Heavy Heavy Music Video