Nakhra Lyrics by Gulab Sidhu: "Nakhra" is the Brand New Punjabi Song, featuring Pooja Rajput and Gulab Sidhu. Sargi Maan and Gulab Sidhu have sung this Latest Punjabi Song, while Nakhra Song Lyrics are penned by Gurjas Sidhu, with Music given by Gaiphy, and this Brand New Music Video was released on March 27, 2023.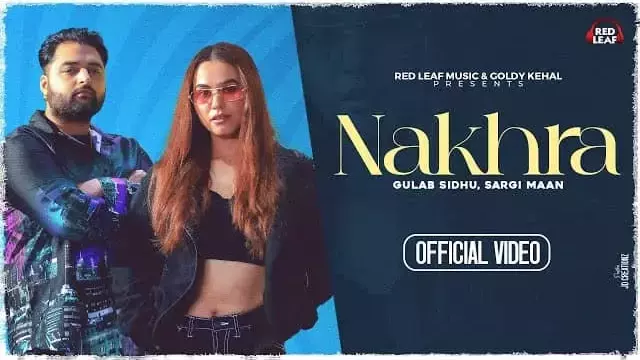 Gulab Sidhu – Nakhra Lyrics
And Guess
Who's On The Beat Again
Gaiphy!
Phullan Naal Hauli Jatti
Bhara Par Nakhra
Ankh Meri Da Ve
47 Jinna Khatra
Jhaka Tera Horan Naalon
Add Dil Vich Kar
Kar Gaya Wakhra
Uljhiyan Tere Naal
Ankhan Kahdiyan Ve
Godde Tek Gaya Nakhra
Uljhiyan Tere Naal
Ankhan Kahdiyan Ve
Godde Tek Gaya Nakhra
Tek Gaya Nakhra
Ve Tek Gaya Nakhra
Chhan Chhan Di Thaan
Jhanjhar Sidhu Sidhu Kardi
Jih Te Marde Saare
Oh Tere Te Mar Gayi
Kaalja Si Vicho Lai Gaya
Kadh Mere Haaniyan
Chakk Jimmewari Meri
Faaha Watt Mere Haaniyan
Dekh Tainu Chobbra
Haaye Dil Chori Hon Da
Main Paa Leya Si Khatra
Uljhiyan Tere Naal
Ankhan Kahdiyan Ve
Godde Tek Gaya Nakhra
Uljhiyan Tere Naal
Ankhan Kahdiyan Ve
Godde Tek Gaya Nakhra
Tek Gaya Nakhra
Ve Tek Gaya Nakhra
Ho Kehdi Nakhron Phire Faraak Ch
Baaz Ni Chugde Choga
Bade Pade Itihaas Main
Husan Ni Chhad'da Kaase Joga
Jogiyan Utte Kamm Ni Karne
Ilam Tere Aa Jaadu De
Aivein Chhed Ke Saadh Na Pichhe
Khatre Paa Layi Wadhu De
Haan Pakki Utte Gijje Kithe
Jaande Patte Ankhan Ton
Tere Kithe Aa Jau Kaabu
Aaya Ni Jo Lakhan Ton
Vair Hon Anne Utton
Pyar Ho Jaye Vaili Nu Taan
Dunna Ho Jaye Khatra
Uljhiyan Tere Naal
Ankhan Kahdiyan Ve
Godde Tek Gaya Nakhra
Uljhiyan Tere Naal
Ankhan Kahdiyan Ve
Godde Tek Gaya Nakhra
Nakk Mere Te Nakhre De Si
Pakke Dere
Darda Ajj Kal Aunda Ni Jo
Muhre Tere
Gutt Nagne Vi
Teri Muchh Muhre Fail Ve
Husana Di Taurne
Banati Vekh Rail Ve
Boli Vich Bole Sangrur
Sidhu'aa Ve
Saara Area Da Chakkar Aa
Uljhiyan Tere Naal
Ankhan Kahdiyan Ve
Godde Tek Gaya Nakhra
Uljhiyan Tere Naal
Ankhan Kahdiyan Ve
Godde Tek Gaya Nakhra
Written by: Gurjas Sidhu
Nakhra Song Info:
| | |
| --- | --- |
| Song: | Nakhra |
| Singer: | Sargi Maan & Gulab Sidhu |
| Lyrics: | Gurjas Sidhu |
| Music Director: | Gaiphy |
| Video Director: | Uday Pratap Singh |
| Music Label: | Red Leaf Music |
| Featuring: | Pooja Rajput & Gulab Sidhu |
| Release Date: | March 27, 2023 |
Related Songs
Shape – Kaka
Mera Na – Sidhu Moose Wala
Careless – Shrey Singhal
Pta Ni – Jerry
Last Words – Zehr Vibe
Kunndhi Muchhh – Ammy Virk
Rise N Shine – Mankirt Aulakh
Nakhra Music Video