Busy Getting Paid Lyrics by Ammy Virk: "Busy Getting Paid" is the Brand New Punjabi Song featuring DIVINE. Ammy Virk and DIVINE have sung this Latest Punjabi Song, while Busy Getting Paid Song Lyrics are penned by Mani Longia and DIVINE, with Music produced by Starboy X, and this Brand New Music Video is directed by Mahi Sandhu and Joban Sandhu.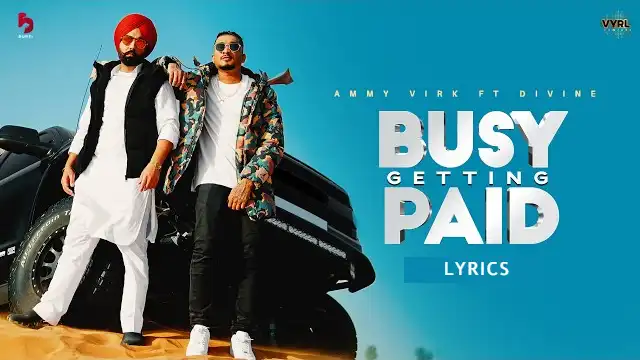 Ammy Virk – Busy Getting Paid Lyrics
Aye!
Divine!
Ammy Virk!
Let's Go!
Ho Gaur Karin Akkh Te Jaan Ke Chakk Te
Main Gabbru Ni Jama Kara Dekh Saare Pakh Te
Ho Matthi Matthi Tor Vailpune Vich Fire Billo
Dekh Lai Ni Jatt Ne Halaya Peya Shehar Billo
Gabru Ae Top Da Te Top Di Quality
Yaaran Vich Chaldi Kade Na Formality
Sab Naal Yaariyan Te Khulle Khate Chalde
Oh Mittar'an Di Chaldi Hundi Ae Nitt Party
Boldi Ae Tuti Poora Taan Yaad Rakheyo
Gabru Da Gabru Da Naa Yaad Rakheyo
Middle Finger Jehi Aa Chak Ke Dikhaunde
Jehde Jatt Di Naroyi Poori Baanh Yaad Rakheyo
Kayi Saddi Karde Aa Rees Par Hoyi Naa
Chal Putt Chal Putt Chal Chal Koyi Naa
Ik Bina Akkh Rakhda Naa Kise Hor Te
Khaure Kinne Parche Paye Aa Saddi Tor Te
Khaure Kinne Parche Paye Aa Saddi Tor Te
Aye!
Divine!
I Still Don't Give A F*ck
Still Run The Game Still F*ckin' Up The Club
Sab Mera [?] With No Lean In My Cup
Sab Kuch Zabardast Son I Do What I Want
Bhagwan Meharban Bolta Mera Kaam
Verse Mera Nasha Inko Pata Mera Naam
Caviar Chhod Chote Laga Mera Naam
Blessed Hoon Main Kaise Sab Hote Pareshan
Kabhi Jald Kabhi Late
Kabhi Ghar Kal Videsh
Kabhi Nahi Tha Mera Seth
Khud Se Bhara Maine Pet
Tu Kone Pe Hai Khada
Sabko Pata Tera Rate
A Verse Is My Flex Par Fata Inka Jeb
Sabko Fal Yahan Khana Jabse Laga Mera Ped
Entry Sab Maare Jabse Toda Maine Gate
Haan Door Se Hi Dekh Chhote Hamein Nahi Chhed
We Just Busy Getting Paid, Busy Getting Paid
Kapde Aa Coolle Dekh Lutt'da Ae Bulle Dekh
Nitt Rehnda Murga Ni Murga Ni Mittar'an De Chullhe Dekh
Kapde Aa Coolle Dekh Lutt'da Ae Bulle Dekh
Nitt Rehnda Murga Ni Murga Ni Mittar'an De Chullhe Dekh
Ho Kade Kade Jach Ke Banaunde Jatt Reel Billo
Tere Jehi Aa Sohneya Nu Lehnda Jatt Keel Billo
Yaari Vich Chalda Mazaak Poora Rajj Ke
Yaariyan Ch Karde Na Gall Yatt Feel Billo
Jatt Hunde Jachde Ni Dalleyan Nu Pachde Ni
Range Vich Yaar Dekh Ke Kayi Saale Machde Ni
Munda Kitthe Dabda Ae Kudiyan Nu Fabda Ae
Hunda Ae Pakka Dera Ni Yaaran Vich Labhda Ae
Asool'an Da Ae Pakka Jatt Jarda Na Dhakka Dekh
Badshah Side Kare Mukda Ae Yakka Dekh
Gaddi De Aa Lashk Te [?] Billo Rim Ni
Athde Jeh Jaam Challe Tadke Aa Gym Ni
Ho Dil Da Ae Bhola Janda Na Hera Feriyan
Adeya Ae Mahda Fer Lai Aunda Munda Nehriyan
Chustt Chalakiyan Haaye Aayin Kare Chadd Ke
Ni Jeh [?] Chauni Aa Ke Main Jatta Teri Aa
Duniyan Te Kattan Ni Aaye Din Darr Ke
Nefe Vich Sutteya Ni Mittar'an Ne Bharr Ke
Ankh Viahi Aa Jatt Ne Poori Shagun Aa Naal
Jehna Ghatt Jande Kise Dil Gall Jarr Ke
Mani Diyan Saareyan Naal Judiyan Ne Yaariyan
Yaariyan Ne Mittar'an Nu Jaano Wadd Pyaariyan
Pyaariyan Ni Kundiyan Ke Putt Jaaiye Jundi De
Jundi Deyan Naal Pakki Aa Ne Dil Daariyan
Kado Kehde Vehde Kitthe Ghume Aa Ae Hatth
Tussi Saari Aa Details Naal Thaa Yaad Rakheyo
Gabru Da Gabru Da Naa Yaad Rakheyo
Boldi Ae Tuti Poora Taan Yaad Rakheyo
Middle Finger Jehi Aa Chak Ke Dikhaunde
Jatt Di Naroyi Poori Baanh Yaad Rakheyo
Jatt Di Naroyi Poori Baanh Yaad Rakheyo
Jatt Di Naroyi Poori Baanh Yaad Rakheyo
Written by: Mani Longia & DIVINE
Busy Getting Paid Song Info:
| | |
| --- | --- |
| Song: | Busy Getting Paid |
| Singer/Band: | Ammy Virk & DIVINE |
| Lead Vocals: | Ammy Virk & DIVINE |
| Lyrics: | Mani Longia & DIVINE |
| Music: | Starboy X |
| Director: | Mahi Sandhu and Joban Sandhu |
| Music Label: | Burfi Music |
| Featuring: | Ammy Virk & DIVINE |
| Release Date: | April 27, 2023 |
Related Songs
Faraar – Ammy Virk
Khabbi Khaan – Ammy Virk
Kunndhi Muchhh – Ammy Virk
Baazigar – DIVINE
Born Fire – DIVINE
Busy Getting Paid Music Video