All Mine Lyrics by Kali Uchis: "All Mine" is a Brand New English Song from the album "Red Moon In Venus", sung by Kali Uchis. All Mine Song Lyrics are penned by Kali Uchis, GRADES, and Al Shux, with Music produced by GRADES and Al Shux, and this brand new music video has been released on March 3, 2023.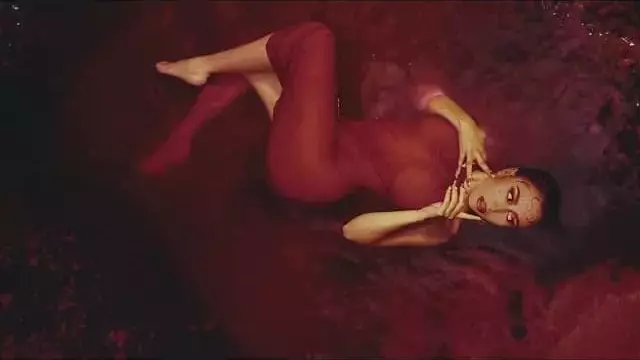 Kali Uchis All Mine Lyrics
Oh
Ooh, Oh
(All Mine, All Mine, All Mío, Mío, Mí)
Ooh-ooh-ooh-ooh, Ooh-ooh-ooh
Ooh-ooh-ooh-ooh, Ooh
Ooh-ooh-ooh-ooh, Ooh
I Hate Your Phone, Throw It Away
Wish It Had Never Even Been Invented
What If For Now We Just Pretend The World Don't Exist?
What If We Never Kissed?
I Guess There's Just No Turning Back (Now)
But I Wouldn't Even In A Time Machine
So, Go And Tell Everyone You Know (Hah-hah-hah)
That You're All Mine, Mine, Mine, Mine, Mine
All Mine, That's All Me
Every Time I See You Smile, That's All Me
And If They Thought They Had A Chance, I'm Sorry
But There Just Ain't No Way In Hell, That's All Mine, All Me
Don't Gotta Fight For What Is Mine (Now)
You Couldn't Keep Him Even If I Gave Him To You
It's Just Pathetic At This Point
If You Think My Baby'll Leave Me For You (Tell The World)
Go And Tell The World (Let 'em Know), Let All These Hoes Know
Who's The Only Girl That Can Make You Cry
I Wonder If It Hurts How Hard They Try
To Take What's Mine, Mine, Mine, Mine, Mine
All Mine, That's All Me
Every Time I See You Smile, That's All Me
And They Should Go And Find Their Own, I'm Sorry
But We Won't Leave Each Other Alone
There Just Ain't No Way, No How
Every Time I See You Smile, That's All Me (Ooh-ooh-ooh-ooh, Ooh-ooh-ooh)
My Baby Make Me So Proud, That's All Me
We'll Figure It Out As We Go, Just You And Me (Ooh-ooh-ooh-ooh, Ooh-ooh-ooh)
But We Won't Leave Each Other Alone, That's All Mine
All Me, All Me, Eeh
All Mine, All Mine, All Mío, Mío, Mi
Eeh, Eeh
All Mine, All Mine, All Mío, Mío, Mi
Written by: Kali Uchis, GRADES & Al Shux
All Mine Song Info:
| | |
| --- | --- |
| Song: | All Mine |
| Album: | Red Moon In Venus |
| Band/Singer: | Kali Uchis |
| Lead Vocals: | Kali Uchis |
| Lyrics: | Kali Uchis, GRADES & Al Shux |
| Music: | GRADES & Al Shux |
| Music Label: | Kali Uchis |
| Featuring: | Kali Uchis |
| Release Date: | March 3, 2023 |
Red Moon In Venus Album Tracklist
​in My Garden
I Wish you Roses
Worth The Wait
Love Between
Fantasy
Como Te Quiero Yo
Hasta Cuando
Endlessly
Moral Conscience
Not Too Late (Interlude)
Blue
Deserve Me
Moonlight
Happy Now