Sikhle Lyrics by Pav Dharia: "Sikhle" is the Brand New Punjabi Song, featuring Juss. Pav Dharia and Juss have sung this Latest Punjabi Song, while the Sikhle Song Lyrics are penned by Juss, with Music given by MixSingh, and this Brand New Music Video was released on February 24, 2023.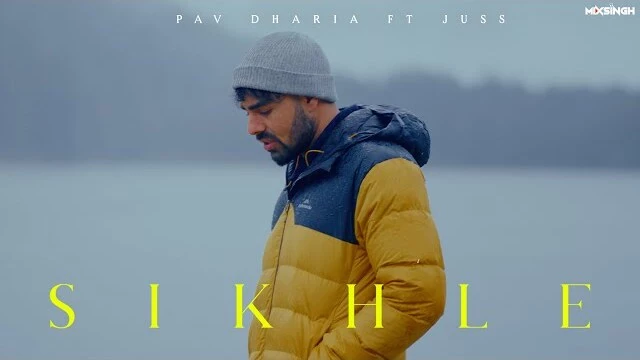 Sikhle Lyrics – Pav Dharia
MixSingh In The House!
Tainu Seene De Naal Lavange
Tainu Dil De Na Kise Lana Nahi
Tere Jisam Nu Hi Bas Khavange
Teri Rooh Nu Kise Ne Chahna Nahi
Haan Jana Nhi Haan Jana Nahi
Ohna Da Kujh Vi Jana Nahi
Zindgi Vich Ik Gall Yaad Rakhi
Tainu Taitho Vadh Kise Chahna Nahi
Tainu Taitho Vadh Kise Chahna Nahi
Sikhle Tu Kallya Rehna
Darda Nu Aape Sehna
Ajj Ne Jo Naal Tere
Enna Kal Nu Tere Naal Ni Rehna
Sikhle Tu Kallya Rehna
Darda Nu Aape Sehna
Ajj Ne Jo Naal Tere
Enna Kal Nu Tere Naal Ni Rehna
Oh Joothe Waade Juthe Lare
Juthiya Kasma Khavange
Juttha Hasna Jutha Rona
Jutha Pyaar Jatavange
Oh Joothe Waade Juthe Lare
Juthiya Kasma Khavange
Juttha Hasna Jutha Rona
Jutha Pyaar Jatavange
Tu Na Layi Eh Pyaar Bura
Fir Hunda Eh Badaa Haal Bura
Teri Rooh Nu Kad Ke Sutt Dena
Par Ohna Nu Koyi Fark Ni Pena
Sikhle Tu Kallya Rehna
Darda Nu Aape Sehna
Ajj Ne Jo Naal Tere
Enna Kal Nu Tere Naal Ni Rehna
"Pehla Pehla Bahot Karange Tera
Kehnge Bas Hun Tu Hi Eh Mera
Tainu Jod Lenge Khud De Naal
Fer Holi Holi Badal Jange Ohna De Khayal
Tainu Aewe Mehsoos Karvavge
Jivein Tere Ch Hi Koyi Kami Eh
Tu Hi Eh Jo Is Rishte Nu Nibha Na Sakya
Te Far Pta Ki Hona?"
Eh Ni Hona Oh Ni Hona
Tainu Oh Samjavnge
Tere Vich Hai Kami Koyi
Mehsoos Tainu Karavanvge
Tainu Bade Bhane Lavange
Majbooriya Leke Aavange
Akhir Te Aake Chadd Dena
Tere Hatha Vich Oh Hath Ni Rehna
Sikhle Tu Kallya Rehna
Darda Nu Aape Sehna
Ajj Ne Jo Naal Tere
Enna Kal Nu Tere Naal Ni Rehna
Sikhle Tu Kallya Rehna
Darda Nu Aape Sehna
Ajj Ne Jo Naal Tere
Enna Kal Nu Tere Naal Ni Rehna
Written by: Juss
Sikhle Song Info:
| | |
| --- | --- |
| Song: | Sikhle |
| Singer: | Pav Dharia & Juss |
| Lyrics: | Juss |
| Music: | MixSingh |
| Director: | Shubh Sandhu & Rohit Negah |
| Music Label: | MixSingh |
| Featuring: | Pav Dharia |
| Release Date: | February 24, 2023 |
Related Songs
Duawan – Pav Dharia
Senõrita – Pav Dharia
Najaa – Pav Dharia
Tenu Takeya – Pav Dharia ft. Khan Saab
Sikhle Music Video