Our Song Lyrics by Ella Mai: "Our Song" is a Brand New English Song from the album "Heart On My Sleeve", sung by Ella Mai. Our Song Lyrics are penned by Aliandro Prawl, Ella Mai Howell, Khristopher Riddick-Tynes, and Varren Wade, with Music produced by Ali Prawl! and Khris Riddick-Tynes, and this brand-new music video has been released on February 2, 2023.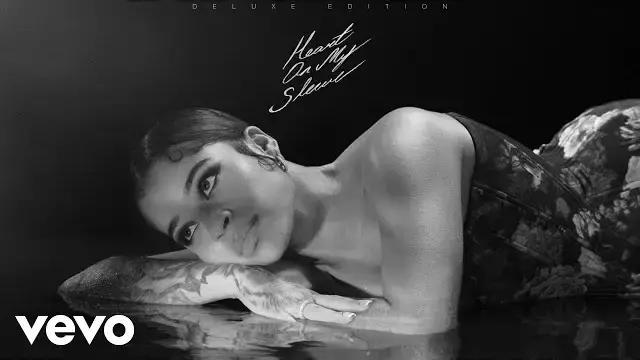 Our Song Lyrics – Ella Mai
No, Oh
I Get It, They Want It
Your Place And Mine
Admit It, Be Honest
No Games, Last Time
All These Broken Promises That We Own
We Can Leave Them At The Front Door
Ain't Thinking About It
If You Ain't Thinking About Them
Just Like That My Love Got You Started
Keep It Up And You Can Stay Inside It
Replays On My Body
All Night Long (All Night Long)
This Our Song (This Our Song)
Breakfast On The Table, You Know What I'm Talking
Call You My Collector, You Know How To Profit
I Like The Way You Pull My Waist As You Spell My Name
Can You Stand The Rain All Night?
Just Like That My Love Got You Started
Keep It Up And You Can Stay Inside It
Replays On My Body
All Night Long (All Night, All Night, All Night Long)
This Our Song (It's Our, This Is Our, This Our Song)
Oh, It's Cold Outside, Ain't Missing A Thing
World Outside And We're Connected
Hold Me Tight So You Can Feel All Of My Loving
Oh, Said It's Cold Outside, Come Kiss Me Right There
World Outside And We're Connected
Hold Me Tight So You Can Feel All Of My Love
I Want Me All Over You Baby, I
Go Skin Deep, I'll Meet You Right There, I
Touch So Sweet, I Got You Right, Babe
Oh-oh, Just Like That My Love Got You Started
Keep It Up And You Can Stay Inside It
Replays On My Body
All Night Long (All Night, All Night, All Night Long)
(Come, Baby, Do Me All Night Long)
This Our Song (It's Our, This Is Our, This Our Song)
(Come Do Me, This Our Favorite Song)
Oh, It's Cold Outside, Ain't Missing A Thing
World Outside And We're Connected
Hold Me Tight So You Can Feel All Of My Loving
Oh, Said It's Cold Outside, Come Kiss Me Right There
World Outside And We're Connected
Hold Me Tight So You Can Feel All Of This Love On You, Baby
Written by: Aliandro Prawl, Ella Mai Howell, Khristopher Riddick-Tynes & Varren Wade
"Our Song" Song Info:
| | |
| --- | --- |
| Song: | Our Song |
| Album: | Heart On My Sleeve |
| Band/Singer: | Ella Mai |
| Lead Vocals: | Ella Mai |
| Lyrics: | Aliandro Prawl, Ella Mai Howell, Khristopher Riddick-Tynes & Varren Wade |
| Music: | Ali Prawl! & Khris Riddick-Tynes |
| Music Label: | Ella Mai |
| Featuring: | Ella Mai |
| Release Date: | February 2, 2023 |
Related Songs
Heartbreak Feels So Good – Fall Out Boy
Pioneer – Upchurch
Real Man – Behani
Can't Get This Right – Russ
Perfect For You – Peach PRC
Devil's Work 2 – Joyner Lucas
One of Us – Ava Max
Escapism. – RAYE
New Opp – Sha Gz
2 O'Clock – Ella Mai
This Is – Ella Mai
Bone Church – Slipknot
BALL LIKE ME TOO – EST Gee
Our Song Music Video