I'm So H0t Lyrics by Chrissy Chlapecka: "I'm So Hot" is a Brand New English Song sung by Chrissy Chlapecka. I'm So H0t Song Lyrics are penned by Chrissy Chlapecka and Alexandra Veltri, with Music produced by Dallas Caton, and this brand-new music video has been released on February 3, 2023.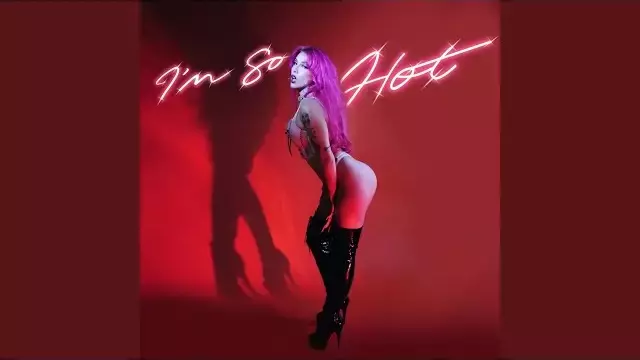 I'm So H0t Lyrics – Chrissy Chlapecka
When I Wake Up Alone
I Can Hardly Take It (You Know)
'cause I Just Can't Believe I Get To See Myself Na*ed
(Head To Toe)
'cause I, I'm My Type
I Don't Try, And I Know Just What I Like
Do You Know? No, You Don't
So Why Would I Waste My Goddamn Time?
I'm, I'm In The Mirror Thinkin' That Between My Th!ghs
I'm Dripping Diamonds Know You Wanna Teste, But Why?
Why Would I Bother With T0uching Anybody Else? ('cause I'm)
I'm So H0t I'd F#ck Myself
I'm Scre*ming Out My Name And
I Love To T*ste It (Chrissy, Ah)
Coming Out My M0uth
It Feels So Good To Sey It (Ah, Ah, Ah, Yeah)
'cause I, I'm My Type
I Don't Try, And I Know Just What I Like
Do You Know? No, You Don't
So Why Would I… Nevermind
I'm, I'm In The Mirror Thinkin' That Between My Th!ghs
I'm Dripping Diamonds Know You Wanna Teste, But Why?
Why Would I Bother With T0uching Anybody Else? ('cause I'm)
I'm So H0t I'd F#ck Myself
Don't Want You To Cry When I Lead You On
Wanna See My M!ni Sk!rt And H0t Pink Th0ng?
I Was Kinda Busy Babe, Is That So Wrong?
(Is That So Wrong? Is That So Wrong?)
I Was With Me And Myself In The Sh0wer
Better Hop In, It's Gonna Take Hours
Three Of Us G!rls Just Playin' With My Fl0wer (Flower, Flower)
I'm, I'm In The Mirror Thinkin' That Between My Th!ghs
I'm Dripping D!amonds Know You Wanna T*ste, But Why?
Why Would I Bother With T0uching Anybody Else? ('cause I'm)
I'm, I'm In The Mirror Thinkin' That Between My Th!ghs
I'm Dripping D!amonds Know You Wanna T*ste, But Why?
Why Would I Bother With T0uching Anybody Else? ('cause I'm)
I'm So H0t I'd F#ck Myself
Written by: Chrissy Chlapecka & Alexandra Veltri
I'm So H0t Song Info:
| | |
| --- | --- |
| Song: | I'm So H0t |
| Band/Singer: | Chrissy Chlapecka |
| Lead Vocals: | Chrissy Chlapecka |
| Lyrics: | Chrissy Chlapecka & Alexandra Veltri |
| Music: | Dallas Caton |
| Music Label: | Chrissy Chlapecka |
| Featuring: | Chrissy Chlapecka |
| Release Date: | February 3, 2023 |
Related Songs
Escapism. – RAYE
Way Back – Skrillex
Real Man – Behani
2 O'Clock – Ella Mai
Bone Church – Slipknot
SAD B!TCH – Anne-Marie
Before I'm Gone – NEFFEX
Escapism. – RAYE
New Opp – Sha Gz
Under the Weather – CORPSE
Shooting Star – XG
Skate Off – Marksman
Llylm – Rosalía
I'm So H0t Music Video