Ek Din Pyaar Lyrics by MC Stan – Ek Din Pyaar is the Brand New Hindi Rap Song from the album "Tadipaar", featuring MC Stan. MC Stan has sung this Latest Hindi Song, while Ek Din Pyaar Song Lyrics are penned down by MC Stan with Music also produced by MC Stan and this Brand New Music video has been released on October 14, 2020.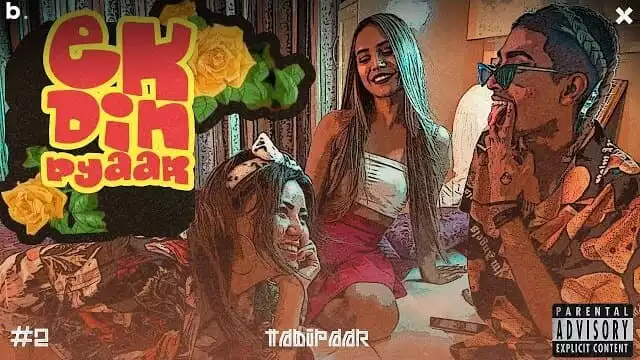 Ek Din Pyaar Lyrics – MC Stan
Ek Din Pyaar
Fir Dusre Din Tum Hate Karte
Teesre Din Pe Vaar
Fir Chauthe Din Tum Wait Karte
Panchve Din Tum Gate Par The
Chatve Din Pe Chase Karte
Saathve Din Mere Naam Pe Tum Pet Bharke Khao
Sab Log Yaha Pe Pait Bharke Pait Bharke, Fir
Meko Kaiku ? Hate Karte , Hate Karte
Hate Karte, Hate Karte Hate Karte, Hate Karte
Hate Karte, Hate Karte Hate Karte, Hate
Trend Bana Yaha Pe Mc Stan Ko Hate Karte
Public Ne Jhada Meko Ek Ladki Ko Date Karte
Wo Ladki Puchi Meko Kaise Tum Yeh Sab Face Karte
Main Bola Mere Peeche Ek Time Zara Baith Kar Dekh
Kaisa Marta Dio Dekh Ghar Tak
Bole To Apla Hood, Palat Soot
Jider Dikhega Dhan, Legega Maan
Ane De Re Konsa Pan Sonn
Sab Ek Saath, Ek Jaat
No Paat No Ghaat, Do Laath
Tere Moo Pe Padegi,
Jhadegi Teri Bhen Meko
Bhen Nahi Hai Meku
Fir Bhi Samaj Sakta Teko
Teko Kya? Sabko
Mera Voice Nahi Hai Echo,
Fir Bhi Gunj Raha Har Jagah
Har Jagah, Har
Mujhe Se Dar Laga
Dar Laga? To Fir Dar Bagha
Yeh Le Dum Laga
Khajve Vichaar Tumko Kum Laga, Kum Laga?
Kamar Main Lumb Sumb Laga? Dumla Ka? Gumla Ka?
Rumb Laga , Rang Laga , Jung Laga , Maan Laga
First Time Dekha Mene Toh Tu Mand Laga
Jaau De Bhao Tuza Sampla Ka
Pill Bitha Dala Mene Meko Numb Laga
Police Kutte Jaise Marri Lekin L*nd Laga
Mat Kar, Patkan, Latkan
Ek Bola Bhava Sathi Kai Pan Bhava Sathi Kai Pan
Pan Kashal Karto Bhaav Sathi Kai Pan?
Aai Pan Radat Basti
Din Raat Aai Pan Nai Pan Mi Khalli Tujhi Item
Mitra Sobat Dai Pan Kaam Wali Karti Bai Pan
Karat Aasti, Hasti Mala Bagun Tujhi Item
Hi Pan, Ani Bye Pan
Mi Vichaar Lo Hoto Tula Tu Zhawat Nai Ka Heela
Tu Bola Meko Hota Mera Panch Min Main Dheela
Toh F#ck Me
Chu*iya Iderch Khatam Hogayele Tu
Ladki Log Ko Satisfy Nhi Kar Sakta To Fir Kya Karegi Bichari?
Ek Din Pyaar
Fir Dusre Din Tum Hate Karte
Teesre Din Pe Vaar
Fir Chauthe Din Tum Wait Karte
Panchve Din Tum Gate Par The
Chatve Din Pe Chase Karte
Saathve Din Mere Naam Pe Tum Pet Bharke Khao
Sab Log Yaha Pe Pet Bharke
Pet Bharke, Fir Meko Kaiku ?
Hate Karte, Hate Karte Hate Karte, Hate Karte
Hate Karte, Hate Karte Hate Karte, Hate Karte
Hate Karte, Hate Karte
Hate Karte, Pan Dekhne Meko Marte
Block Hone Se Darte, Yeh Street N!gga Gharpe
Nahi To Ghusta Tere Gharpe
Teri Bhen Mere Naam Pe,
Kardalega Yede Chale Mat Kar
Abhich Bolrela Teku Aye Pratya Daal Re Iske Seer Mein
Chale Ayee Kaam Pe Lag Mere Naam Pe Lag
Mere Naam Pe Jag, Mere Naam Pe Hug
Asal Ko Haq Nakli Ko F#ck
Lap Lap Lap Lap Lap Lap Lap Lap
Naam Laga Tere Naam Ke Aage
Bole To Baap, Bolte To Naap
B!tch You's A Bop,
Mi Tuza Baap Rakh Meri Sab Item Tere Pass
Aur Sun Meri Baat, Main Aaj Ki Awaz
Tu L*nd Le Ke Naach, Fans Mere Kattar
Seer Mai Tere Kaach
Basanti In Kutto Ke Samne Mat Naach
F#ck That Time B!tch
I'm Gonna 9
I'm Gonna Shine
Tera Dirty Mind
Main Kisiko Pan Nahi Ho Gayla Sign
Meri Ammi Se Door B!tch Im Not Fine
Its Time To Find
Who's Lying ? Who' S Tryin !
P-Town Baby
Chowk Main Rukh Ke Derele Gang Sign
Pyaar Kar
Written by: MC Stan
Ek Din Pyaar Song Info:
| | |
| --- | --- |
| Song: | Ek Din Pyaar |
| Album: | Tadipaar |
| Singer: | MC Stan |
| Lyrics: | MC Stan |
| Music: | MC Stan |
| Music Label: | MC Stan |
| Featuring: | MC Stan |
| Release Date: | October 14, 2020 |
Related Songs
Basti Ka Hasti – MC Stan
Voodoo – Badshah
Focus – Ikka, Sukh E
Baazigar – Divine
Born Fire – Divine
Pyaar Hai – Emiway Bantai
Machayenge 4 – Emiway Bantai
Ek Din Pyaar Music Video