BBBB Lyrics by Khan Bhaini is the Brand New Punjabi Song. Khan Bhaini has sung this Latest Punjabi Song, while BBBB Song Lyrics are also penned down by Khan Bhaini, with Music given by Syco Style, and this Brand New Music Video is directed by Mahi Sandhu and Joban Sandhu.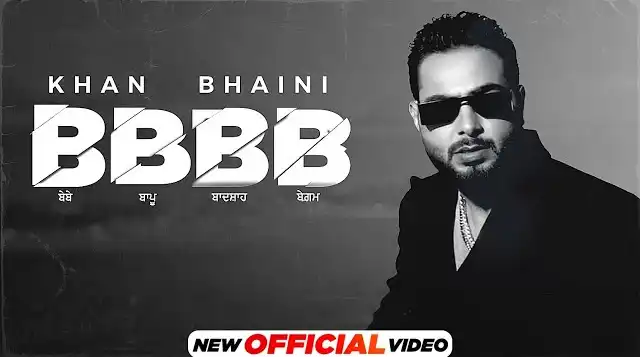 BBBB Lyrics – Khan Bhaini
Ho Shohrat Naam Te Paisa Chhadd Ke
Main Chunnda Balliye Yaara Nu
Ho Jittan Da Kade Maan Ni Kitta
Main Notice Karda Haaran Nu
Ho Lagda Mainu Veham Ho Gaya
Hunn Gidadan Diyan Daaran Nu
Haaye Ohna Naal Nitt Khain Da Balliye
Time Ni Lagda Yaara Nu
Haaye Yaar Taan 2-3 Khaure
Kinne Vairy Mere Lakk Ch Ne
Ho Bebe Bapu Badshah Begum
Ni Chari Mere Pakh Ch Ne
Syco Style!
Ho Sameyan Ne Chande Aan
Saaf Dil Bande Aan
Bahleyan Ton Maahde Biba
Bahleyan Ton Changey Aa
Kitti Ni Care Kade
Ajj Ni Taan Pher Kade
Hikkan Taan Taan Maahde
Vehleyan Chon Langhe Aa
Ho Jinna Vi Naam Hoya
Sidha Sareaam Hoya
Jihda Mashhoor Hoya
Ohdi Badnaam Hoya
Mitran Da Dil Jeh
Saukha Hi Mil Jaaye
Bhaini Aala Khan Kade
Ainna Vi Ni Aam Hoya
Bhaini Aala Khan Kade
Aithe Teri Daal Dassan
Galni Ni Goriye
Matt Teri Pendu Naal
Ralni Ni Goriye
Pata Mainu Baithi Tu
Rakaane Jehdi Maar Te
Ni Badiyan Hi Nazara Ne
Iss Kalakaar Te
Pichhe Bahut Lagiyan Ne
Dilliyan Te Billiyan
Shikaar Utton Ankhan
Kadon Sher Diyan Hilliyan
Ni Gudti Punjab Di
Kayi Sadde Sirron Dhareya
Ni Vaade Bade Kare Aa
Te Ghate Bade Jarre Aa
Meri Apni Aa Ek Duniya Te Main
Apni Vich Haan Fit Balliye
Mera Roll Model Koyi Duja Ni
Main Mere Varga Ik Balliye
Ho Zindagi Vichon Sikheya Main
Geetan Vich Devan Likh Balliye
Ho Iss Matlab Di Duniya Vich
Har Seh Jaandi Aa Bikk Balliye
Har Thaan Mitran Da Naam Ni Jud'da
Jithe Jud'da Bande Kisse Hi Aa
Saddi Pith Pichhe Ajj Bolan Jehde
Bas Bolan Rehne Pichhe Hi Aa
Ho Tukka Ni Koyi Balliye
Tajurba Ae Yaar Da
Time Na Harave Dass
Kithe Banda Haarda
Ohdon Banda Kare
Parmatma Nu Chette
Yaaron Sikhri Chada Ke
Jadon Laake Thalle Maarda
Ho Yaarian Taan Jatton
Ban Gaiyan Ne Vyapar
Har Banda Kari Baitha
List'an Taiyaar
Fame Naa Da Laggeya Ae
Rog Ek Chandra
Roohan Nu Hi Bande Kari
Baithe Aa Bimaar
Roohan Nu Hi Bande Kari
Baithe Aa Bimar
Ho Ajj Kal Minute Ni Lagda Mitran
Aithe Apne Dushman Ban Deyan Nu
Tera Path Badshah Jaane Ya Phir
Dassi Bande Ghar Deyan Nu
Jehda Painda Ohde Pai Jaan Pairi
Eh Lok Daraunde Dar Deyan Nu
Hath Khinch Laindi Aa Duniya Mitran
Deke Baazi Hardeyan Nu
Haaye Ohna Da Ki Ban'na Dass Tu
Jinna De Dil Vich Khaar Bane
Naale Ohde Naal Saddi Ban'ni Kithe
Jihde Nitt Nawa Koyi Yaar Bane
Written by: Khan Bhaini
BBBB Song Info:
| | |
| --- | --- |
| Song: | BBBB |
| Singer: | Khan Bhaini |
| Lyrics: | Khan Bhaini |
| Music: | Syco Style |
| Director: | Mahi Sandhu & Joban Sandhu |
| Music Label: | Speed Records |
| Featuring: | Khan Bhaini |
| Release Date: | 07th November 2022 |
Related Songs
Na Ji Na – Khan Bhaini
Surma – Khan Bhaini
Shartan – Khan Bhaini
Sun Fer – Khan Bhaini
Lamborghini – Khan Bhaini
BBBB Music Video