Monotonía Lyrics by Shakira is the Brand New Spanish Song featuring Ozuna. Shakira and Ozuna have sung this Latest Spanish Song, while Monotonía Song Lyrics are penned by Shakira, Ozuna, and Hi Music Hi Flow, with Music produced by Hi Music Hi Flow, and this brand new music video is directed by Jaume De La Iguana and Shakira.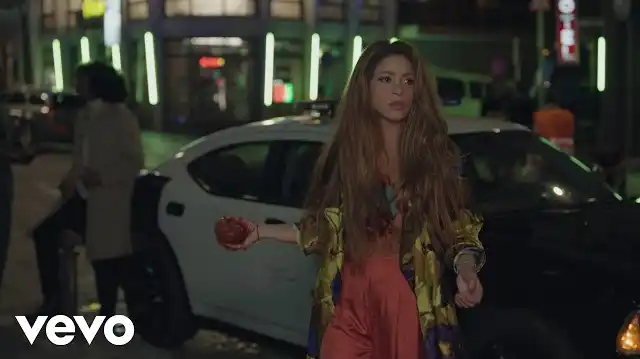 Monotonía – Shakira (English Translation)
Monotonía Lyrics – Shakira
Woh-Oh-Oh-Oh-Oh, Eh
Yeah!
No Fue Culpa Tuya, Ni Tampoco Mía
Fue Culpa De La Monotonía
Nunca Dije Nada, Pero Me Dolía (Mmm, Ah)
Yo Sabía Que Esto Pasaría
Tú En Lo Tuyo, Yo Haciendo Lo Mismo
Siempre Buscando Protagonismo
Te Olvidaste De Lo Que Un Día Fuimos
Y Lo Peor Es Que
No Fue Culpa Tuya, Ni Tampoco Mía
Fue Culpa De La Monotonía
Nunca Dije Nada, Pero Me Dolía (Mmm, Ah)
Yo Sabía Que Esto Pasaría (Oh-oh-oh)
De Repente Ya No Eras El Mismo (El Mismo)
Me Dejaste Por Tu Narcisismo (Egoísmo)
Te Olvidaste De Lo Que Un Día Fuimos
(Woh-oh, Oh-oh)
Eh-eh, Ey
Tú Distante Con Tu Actitud
Y Eso Me Llenaba De Inquietud
Tú No Daba' Ni La Mitad
Pero Sí Sé Que Di Más Que Tú
Estaba Corriendo Por Alguien
Que Por Mí Ni Estaba Caminando
Este Amor No Ha Muerto, Pero Está Delirando
Ya De Lo Que Había Ya No Hay Na'
Te Lo Digo Con Sinceridad
To' Está Frío Como En Navidad
Es Mejor Que Esto Se Acabe Ya (Ya, Ya)
No Me Repitas Otra Vez
Que Esa Ya La Vi (Ya La Vi)
Que Yo Te Quiero
Pero Es Que Yo Me Quiero Más A Mí (Más A Mí)
Es Un Adiós Necesario
Lo Que Un Día Fue Increíble Se Volvió Rutinario
No Me Saben A Nada Tus Labios
Ahora Es Todo Lo Contrario, Y Lo Peor Es Que
No Fue Culpa Tuya, Ni Tampoco Mía
Fue Culpa De La Monotonía
Nunca Dije Nada, Pero Me Dolía (Mmm, Ah)
Yo Sabía Que Esto Pasaría
Tú En Lo Tuyo, Yo Haciendo Lo Mismo (Mismo)
Siempre Buscando Protagonismo
Y Te Olvidaste De Lo Que Un Día Fuimos
Eh-eh, Ey
Ozuna, Ah
Shaki, Je
Hi Music Hi Flow…
Written by: Shakira, Ozuna & Hi Music Hi Flow
Monotonía Song Info:
| | |
| --- | --- |
| Song: | Monotonía |
| Singer: | Shakira & Ozuna |
| Lyrics: | Shakira, Ozuna & Hi Music Hi Flow |
| Music: | Hi Music Hi Flow |
| Director: | Jaume De La Iguana & Shakira |
| Music Label: | Shakira |
| Featuring: | Shakira & Ozuna |
| Release Date: | 19th October 2022 |
Related Songs
Do It Right – Don Toliver
She – Jelly Roll
At My Worst – Pink Sweat$
Take Me to Church – Hozier
Beatbox (English Ver.) – NCT DREAM
Billie Eilish – Armani White
царапка (scratch) – mzlff
Жара (Heat) – INSTASAMKA
Bzrp Music Sessions, Vol. 53 – Shakira (English Translation)
Monotonía Music Video