Karobar Lyrics by R Nait is the Brand New Punjabi Song featuring R Nait and Malvi Malhotra. R Nait and Gurlez Akhtar have sung this Latest Punjabi Song, while Karobar Song Lyrics are penned down by R Nait, with Music given by MixSingh and this Brand New Music Video is directed by The James Only.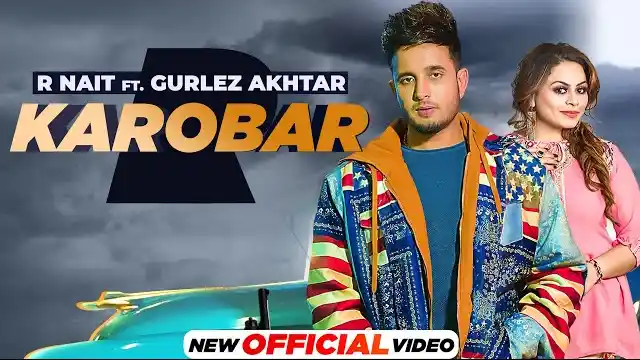 Karobar Lyrics – R Nait
MixSingh In Tha House!
Oh Rull Jau Meri Suhal Jawaani
Ve Bhora Vi Fikar Na Tainu
Jiju Sadda Job Ki Karda
Ve Puchhdi Aa Sakhiyan Mainu
Marr Gayi Main Marr Gayi Haaye
Kiddan De Lekh Likhaye
Vailly Naal Paa Ke Beh Gayi Pyaar
Sohneya Ki Aa Ve Tera Karobar
Sohneya Ki Aa Ve Tera Karobar
Yaara Nu Gall Na Lavan
Ni Dalleya Nu Kahdi Maafi
Pistol Di Khabbi Side Te
Ni Chobar Ne Likhiya Paapi
Pistol Di Khabbi Side Te
Gabru Ne Likhiya Paapi
Jitthe Kade Hundae Waaka
Pauda Tera Yaar Pataka
Mouke Te Hunda Nahi Faraar
Sohniye Bhala Nai Changa Tera Yaar
Sohniye Bhala Nai Changa Tera Yaar
Dasseya Main Mom Dad Nu
Ve Laggeya Sarkari Mastar
Dasseya Main Mom Dad Nu
Ve Laggeya Sarkari Mastar
Gaddi De Pichle Sheeshe Te
Ve Likheya Tu Yaar Defaulter
Gaddi De Pichle Sheeshe Te
Ve Likheya Tu Yaar Defaulter
Kamm Ni Ve Changge Tere
Nitt De Aa Pangge Tere
Haan Kitthon Tere Vass Mutiyaar
Sohneya Ki Aa Ve Tera Karobar
Sohneya Ki Aa Ve Tera Karobar
Tu Taan Dudh Naalon Chitti
Ni Zindagi Meri Dark Dark
Rab Di Saun Dharampuri Wala
Ni Tere Layi Haanikarak
Rab Di Saun Dharampuri Wala
Tere Layi Haanikarak
Mittar Aa Naal Khaa Ke Roti
Rakhde Aa Neeyat Jo Khoti
Neere Saale Hunda Aa Gaddar
Sohniye Bhala Nai Changa Tera Yaar
Sohniye Bhala Nai Changa Tera Yaar
Tere Bina Maru Kawari
Ve Darr Ja Mainu Laggi Jandae
Tere Bina Maru Kawari
Ve Darr Ja Mainu Laggi Jandae
Aap Tu Khannae Nagani
Ve Pistal Tera Pittal Khandae
Aap Tu Khannae Nagani
Ve Pistal Tera Pittal Khandae
Mittar Aa Ve Dharampura Tera
Saura Pind Ho Jau Mera
Ve Lai Jaa Chheti Le Ke Lawan Chaar
Sohneya Ki Aa Ve Tera Karobar
Sohneya Ki Aa Ve Tera Karobar
Thalle Meri Gaddi Kaali
Ni Chobar De Kamm Nai Kaale
Akkhan Vich Rakhde Laali
Ni Chandi Diyan Dabbiyan Waale
Akkhan Vich Rakhde Laali
Chandi Diyan Dabbiyan Waale
Socha Main Tere Baare
Puchna Jeh Mere Baare
Ghar Ch Lawan Lai Akhbaar
Sohniye Bhala Nai Changa Tera Yaar
Sohneya Ki Aa Ve Tera Karobar
Sohniye Bhala Nai Changa Tera Yaar
Written by: R Nait
Karobar Song Info:
| | |
| --- | --- |
| Song: | Karobar |
| Singer: | R Nait & Gurlez Akhtar |
| Lyrics: | R Nait |
| Music: | MixSingh |
| Director: | The James Only |
| Music Label: | Speed Records |
| Featuring: | R Nait & Malvi Malhotra |
| Release Date: | 17th August 2022 |
Related Songs
Big Men – R Nait
Big Men Chapter 2 – R Nait
Big Men Chapter 3 – R Nait
Chal Payi Chal Payi – R Nait
Gaddar Banda – R Nait, Gurlez Akhtar
Karobar Music Video