26 Boulevard Lyrics by Prem Dhillon is the Brand New Punjabi Song featuring Prem Dhillon. Prem Dhillon has sung this Latest Punjabi Song, while 26 Boulevard Song Lyrics are penned down by Prem Dhillon, with Music given by San B and Visuals of this Brand New Music Video by Rupan Bal and Dilpreet VFX Films.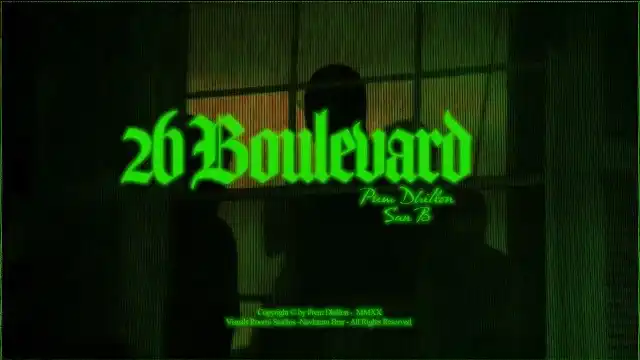 26 Boulevard Lyrics – Prem Dhillon
Kaal Tainu Jaado Mi Main Pick Kareya
Variyan Da Kaalja Main Kick Kareya
San B Plays This Beat!
Ho Kaal Tainu Jaado Mi Main Pick Kareya
Variyan Da Kaalja Main Kick Kareya
Oh Rakhde Si Ankkh Saale Karke Drop
Tainu Aunde Paire Jadon Uss Route Mudeya
Oh 26 Si Tareek 26 Boulevard
Ni Main 26 Da Si Parcha Kara Ke Mudeya
26 Si Tareek 26 Boulevard
Ni Main 26 Da Si Parcha Kara Ke Mudeya
Oh Sector Section Same Ho Gaye
Chardi 27 Nu Si Fame Ho Gaye
Ho Ho Sector Section Same Ho Gaye
Chardi 27 Nu Si Fame Ho Gaye
Laga Japta Si Chon Lokki Puchde Si Kaun
Japta si Chon Lokki Puchde Si Kaun
Bina Asle Joh Thak Thak Kara Jo Tureya
Oh 26 Si Tareek 26 Boulevard
Ni Main 26 Da Si Parcha Kara Ke Mudeya
26 Si Tareek 26 Boulevard
Ni Main 26 Da Si Parcha Kara Ke Mudeya
Oh Paaye Ishq Maamle Bhare
Ishq Maamle Bhare Ni
Oh Gau Aau Karati Jatt Ni
Vajji Adhi Raat Hooter Si Naare
Gau Aau Karati Jatt Ni
Vajji Adhi Raat Hooter Si Naare
Oh Pind Raula Kude
Wagga Chandigarh Ho Gaya
Dhoka Wave Made
30 Kolo Fadd Ho Gaya
Oh Pind Raula Kude
Wagga Chandigarh Ho Gaya
Dhoka Wave Made
30 Kolo Fadd Ho Gaya
Sighe Samiya De Kaake
Main Vi Laaye Bade Faake
Samiya De Kaake
Main Vi Laaye Bade Faake
Khuli Labhi Ni Te
Danda Meeh Wangu Vareya
Oh 26 Si Tareek 26 Boulevard
Ni Main 26 Da Si Parcha Kara Ke Mudeya
26 Si Tareek 26 Boulevard
Ni Main 26 Da Si Parcha Kara Ke Mudeya
Oh Si Raaje Dhillon
Soffi Ta Vi Leke Beh Geya
Oh Janda Oh Janda Raula Pai Gaya
Oh Saale Raaje Si Te Paaiyan
Kude Leke Beh Gaya
Oh Janda Oh Janda Raula Pai Gaya
Oh Nahiyo Nittyan Ch Darr
Utth Kabhran Te Padh
Nittyan Ch Darr
Utth Kabhran Te Padh
Ho Tere Majha Aale
Jatt Utte Case Kadeya
Oh 26 Si Tareek 26 Boulevard
Ni Main 26 Da Si Parcha Kara Ke Mudeya
26 Si Tareek 26 Boulevard
Ni Main 26 Da Si Parcha Kara Ke Mudeya
Written by: Prem Dhillon
26 Boulevard Song Info:
| | |
| --- | --- |
| Song: | 26 Boulevard |
| Singer: | Prem Dhillon |
| Lyrics: | Prem Dhillon |
| Music: | San B |
| Visuals: | Rupan Bal and Dilpreet VFX Films |
| Music Label: | Prem Dhillon |
| Featuring: | Prem Dhillon |
Related Songs
OG – Prem Dhillon
Nah They Can't – Prem Dhillon
Never Again – Prem Dhillon
Blackberry Sap – Prem Dhillon
26 Boulevard Music Video