Ghadi Teri Lyrics by Raman Gill is the Brand New Punjabi Song featuring Raman Gill. Raman Gill has sung this Latest Punjabi Song, while Ghadi Teri Song Lyrics are penned down by Kirat Gill, with Music also given by Gur Sidhu and this Brand New Music Video is directed by Jeet Parmar.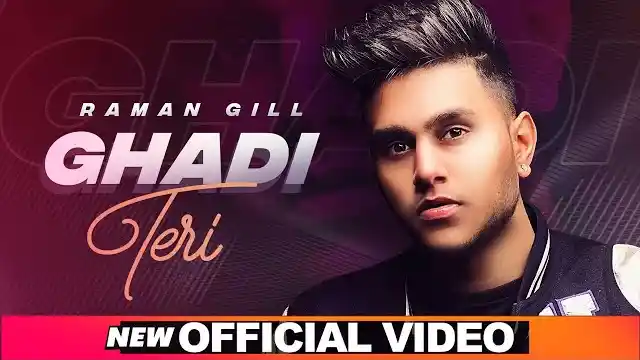 Ghadi Teri Lyrics – Raman Gill
Haaye Gur Sidhu Music!
Haaye Raman Gill!
Kahda Hai Pyar Jado Rehani Na Khabar
Tainu Bas Tere Kamman De Ne Fikar
Dekh Ke YouTube Utte Cooking Lesson
Tere Layi Si Main Ready Kitta Dinner
Dass Is Gall Te Debate Kinni Vari Kara Main
Jaag Jaag Teri Wait Raat Sari Kara Main
Anniversary Bhulleya Pyar Di
Cheta Rehnda Tainu Bs Gaane Gaun Da
Ghadi Teri Gift Jo Kitti Leja Mod Ke
Ve Jado Aine Dasna Ni Tyme Tere Aaun Da
Ghadi Teri Gift Jo Kitti Leja Mod Ke
Ve Jado Aine Dasna Ni Time Tere Aaun Da
Chal Parso Tu Geya Airport Si Ga Lane
Aya Si Jo Yaar America To
Kal Ta Dhaupere Hi So Gaya Si Jado
Pick Karne Si Suit Ve Boutiqa Ton
Careless Attitude Mainu Na Vakhavi Agge Ton
Kar Order Zomato To Hi Khavi Agge Ton
Aagi Karne Te Change Je Mai Kirat
Hoju Aukha Tera Khan Peen Da Te Son Da
Ghadi Teri Gift Jo Kitti Leja Mod Ke
Ve Jado Aine Dasna Ni Tyme Tere Aaun Da
Ghadi Teri Gift Jo Kitti Leja Mod Ke
Ve Jado Aine Dasna Ni Time Tere Aaun Da
Kinne Shone Juth Tere Shimle Ghuman De
Garmi Ch Water Park Laike Jaan De
Garmi Ch Water Park Laike Jaan De
Kinne Shone Juth Tere Shimle Ghuman De
Garmi Ch Water Park Laike Jaan De
Jana Si Dubai Tu Viah To Baad Leke
Par Sarti Mohali Ch Ghumake Tu Rakaan Ve
Sarti Mohali Ch Ghumake Tu Rakaan Ve
Rukk Ja Tu Dekhi Tainu Kivein Suit Karungi
Gps Pake Mai Track Route Karungi
Phone Ke Mai Dekhi Tere Kholu Passcode Ve
Methon Door Jaan Vale Band Karu Road Ve
Halle Hundi Naraj Je Mai Ho Gayi
Fer Sikhi Baith Ke Tarika Tu Manaun Da
Ghadi Teri Gift Jo Kitti Leja Mod Ke
Ve Jado Aine Dasna Ni Tyme Tere Aaun Da
Ghadi Teri Gift Jo Kitti Leja Mod Ke
Ve Jado Aine Dasna Ni Time Tere Aaun Da
Ghadi Teri Gift Jo Kitti Leja Mod Ke
Ve Jado Aine Dasna Ni Tyme Tere Aaun Da
Ghadi Teri Gift Jo Kitti Leja Mod Ke
Ve Jado Aine Dasna Ni Time Tere Aaun Da
Written by: Kirat Gill
Ghadi Teri Song Info:
| | |
| --- | --- |
| Song: | Ghadi Teri |
| Singer: | Raman Gill |
| Lyrics: | Kirat Gill |
| Music: | Gur Sidhu |
| Director: | Jeet Parmar |
| Music Label: | Speed Records |
| Featuring: | Raman Gill |
Related Songs
Jhanjar – Baani Sandhu
Tu Shayar Banaagi – Parry Sidhu
Pasoori – Ali Sethi
Allah Maaf Kre – Amrit Maan
Kundi Lagalo Saiyaan – RaanBaazar
Jhalleya Dila – Noor Chahal
Ghadi Teri Music Video