VYRL Originals presents "Fursat Hai Aaj Bhi Lyrics". This Brand New Hindi Song is sung by Arjun Kanungo, while Lyrics are penned down by Mayur Puri, and Music is also by Arjun Kanungo and music label by VYRL Originals.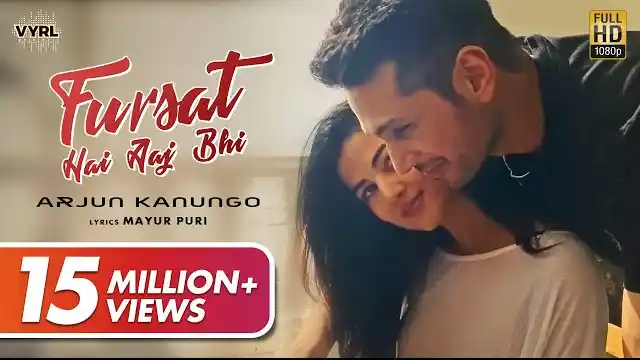 Fursat Hai Aaj Bhi Full Song Lyrics
Bhoolna kya, bhulaana kya?
Roothna kya, manaana kya?
Dil kabhi tha sayaana kya? 
Tujhe khoya nahin, tha kabhi…
Tu hai yahin kahin, aaj bhi…
Fursat ka jo har lamhaa hai
Aadat teri baaton ki, aaj bhi
Teri ankhon ne jo dekhe they
Meri ankhon mein wo sapne hain
Sarhad nahin khwaabon ki, aaj bhi 
Aa gaye toh hai jaana kya?
Teri yaadon se behtar hai 
Kum lagey saath jo beetey
Tujhe bhoola nahin tha kabhi 
Tu hai mere kareeb aaj bhi 
Fursat ka jo har lamhaa hai
Aadat teri baaton ki, aaj bhi
Teri ankhon ne jo dekhe they
Meri ankhon mein wo sapne hain
Sarhad nahin khwaabon ki, aaj bhi 
Fursat Hai Aaj Bhi Full Song Lyrics In Hindi 
मेरी आँखों में वो सपने है 
सरहद नहीं ख़्वाबों की आज भी 
मेरी आँखों में वो सपने है 
सरहद नहीं ख़्वाबों की आज भी 
Fursat Hai Aaj Bhi Song Info:
Song – Fursat Hain Aaj Bhi
Fursat Hain Aaj Bhi Music Video